Applications:
Ø Demolishing high-rise buildings and structures.
Ø Typically attached to a hydraulic breaker, multi-processor or hydraulic shear.
Features:
Ø Heavy duty construction.
Ø Design is simulated extensively, ensuring design integrity and detecting potential stress and fatigue points.
Ø Auxiliary hydraulic lines for attachments.
Ø Package supply with hydraulic cylidners and safety check valves.
Ø Modular joint on main boom for easy transportation.
Ø All surfaces are shot blasted.
Ø Uses marine grade epoxy paint as undercoat.
Ø Demolition booms for excavators greater than 40 metric tons (88,000 lbs) will have a detachable and modular main boom with a quick coupling joint for efficient mounting and dismantling, as well as ease of ground handling and transportation.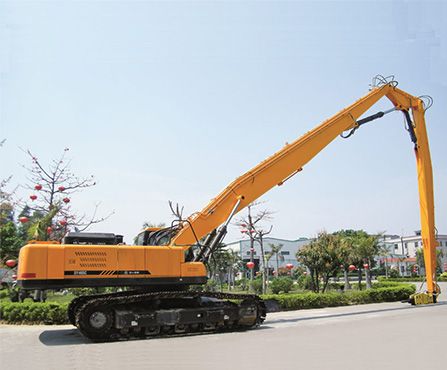 With greater emphasis on work environment safety and stricter regulation in the industry, high reach demolition booms are fast becoming the choice attachment for demolishing old buildings, replacing the traditional and accident prone practice where excavators were lifted onto the building to carry out the highly risky tasks. The demolition boom has changed the entire concept of tearing down buildings, not only improving the overall safety standard, but also extends the working radius and reach of the end attachment where standard machine fall short in this respect.
Safety Check Valves
We offer our customers the option to install safety check valves for the hydraulic cylinders as an added safety feature. In situation where the hydraulic system failed, the safety valves will lock and hold the load in position.
Under no circumstances safety should be a compromised when affordable, reliable and proven technology is readily available. The installation is designed not to have any effect whatsoever on the normal operating function of an excavator.