Description:
Long reach excavator booms are excavator attachments that suitable for all long-distance excavators with a working weight of 230 tons, and can be used for deep gravel pits, long-distance excavation, dredging, slope building, and embankment sedimentation. They are usually not suitable for normal excavation work and long reach excavator booms usually have a reduced size bucket and linkage set.


Each long reach excavator booms kit includes package come standard with the following items:
There is no customized component/part used in our attachment, we design it with commonly available off the shelf components where customers can easily obtain from their local Caterpillar, Komatsu, Hitachi and Kobelco dealers. Each long reach package come standard with the following items
| | |
| --- | --- |
| Items | Quantity |
| Boom | 1 |
| Stick/Dipper Arm | 1 |
| Bucket | 1 |
| Bucket Cylinder/Arm | 1 |
| Boom Yoke Pin | 1 |
| Set of Linkage | 1 |
| Bucket Pin | 2 |
| Bucket Link Pin | 2 |
| Full Set of Hydraulic Piping/Pluming | 1 |


Applications:
Ø Ideal for river and sea dredging either on land or barge.
Ø Basement and deep foundation excavation.
Ø Construction of ditches, levees and pond maintenance.
Ø Construction of sea wall.
Features:
Ø Heavy duty in construction.
Ø Design is simulated extensively, ensuring design integrity and detecting potential stress and fatigue points.
Ø All surfaces are shot blasted.
Uses marine grade epoxy paint as undercoat.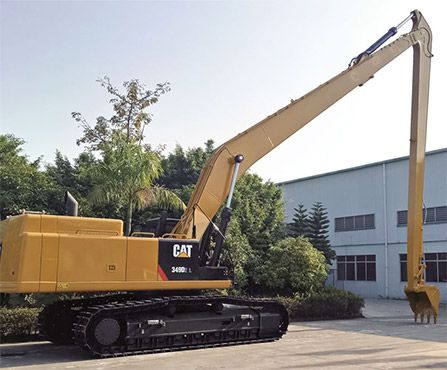 We supply long reach front packages for a wide range of excavator models, ranging from 10 -230 metric tons (22, 000 - 507, 000 lbs) operating weight.
With our expertise in designing and manufacturing long reach booms, you can now maximize your ROI (Return on Investment) on your existing fleet of excavators. Hundreds of customers have realized the value of long reach attachments where standard booms fail to get the necessary job done. Our long reach boom can help you to achieve 50% more digging depth and forward reach over a standard boom, saving you valuable cost and time, and maximizing your bottom line. Only structural grade tensile steel is used in our boom and stick construction, and we design it with varying grades of tensile steel depending on the nature of the application.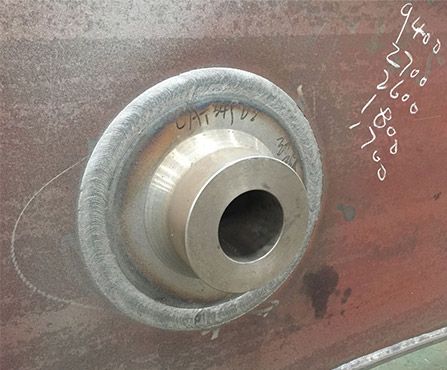 Welding & Design:
Welding is partly or fully done by robotic welding machine to ensure the highest attainable quality and consistency. Product design are accomplished by utilizing latest CAD software, simulated via advance Finite Element Analysis (FEA) tools, ensuring optimum design integrity.

Please leave your information and we will contact you as soon as possible.