If you're not familiar with excavators, or if you use product manuals to specify a machine, these boom tips may be helpful the next time you're in the market for a machine for a specific application.

Long-Reach Boom: Long-reach booms are great for cleaning out ponds and canals — jobs where you're digging out in the water and need the extra reach. Boom length varies based on manufacturer and machine model. For example, the long-reach version of the Volvo EC380 excavator is 27′ 11″ (8.5 m) compared to the 21′ 2″ (6.45 m) standard boom and 16′ 5″ (5 m) arm that provides a max reach of 48′ 5″ (14.75 m).
Mono Boom (Standard Boom): This is what we call the standard setup - it offers good coverage and the right range of bucket sizes and is by far the most popular setup. Some customers use mass excavation setups, which are shorter moving arms and shorter bucket bars.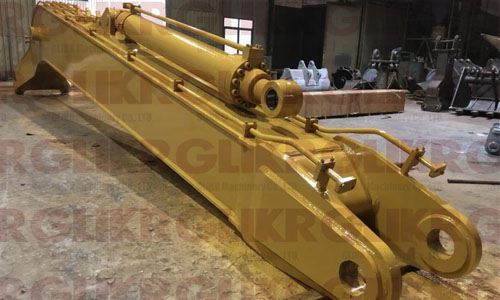 Long-Reach Boom
Two-piece booms: Two-piece booms are very versatile and can actually out-lift a mono boom up close to the machine. The mono boom, however, gives you more reach and out-lifts a two-piece boom at full extension. Two-piece booms allow you to change the bend of the boom to decrease its working height, which is ideal for digging under a bridge or in a building, for example. The price difference between a mono boom and a two-piece boom isn't very significant, which gives you options to get the configuration you need to best suit the work at hand.
Two-piece offset arm: The two-piece offset arm is another option for some excavator models. The two-piece offset arm turns to the right or left. For example, if you are working in a narrow alley with a limited swing, you can turn the boom up so that it is aligned with one of the tracks next to the building. Note that on larger machines, it reduces your lifting capacity because your steering knuckles and cylinders are on the moving boom, so you add weight to the front of the machine. Two-piece offset booms are more expensive and may require additional maintenance. This boom configuration is popular in cities where the workspace is extremely tight.
In general, most customers use a two-piece boom on wheeled excavators and a standard single boom on crawler excavators.
A Note on Wheeled Excavators
Wheeled excavators are becoming increasingly popular in the United States as contractors learn that they dig in the same way as crawler excavators, but are more versatile. Simply pull the outriggers up and drive through neighborhoods or along streets. Or use them on lifts, highway barriers, and more - you won't tear up the ground. When you're ready for a different job, just fold the outriggers, drive to the next job site, and get back to work.
With outriggers, wheeled machines are as stable as similar tracked excavators - and in some cases, wheeled excavators actually have a wider footprint and are more stable than tracked excavators. In muddy or rough conditions, tracked machines are better suited for the job - but if you've never considered a wheeled machine for your type of work, check it out.
If you want to get more information about the high-quality long-reach booms, welcome to contact us today or request a quote.