Most excavator manufacturers offer a choice of boom and arm configurations to customize the excavator for a particular application. In most cases, these include short booms, standard booms, and long booms.
Consider shorter or massive excavation booms. Shorter booms and arms allow for additional lifting capacity as you work closer to the machine and can load trucks faster. "Longer booms are suitable for contractors who need extra reach for digging depths or truck loading compared to standard booms.
In addition to the standard configuration, many manufacturers offer dedicated extra-long reach kits that can reach over 60 feet and dedicated high boom excavators that can extend up to 160 feet. Extra long-reach excavators are designed to reach horizontally while high-reach excavators extend vertically.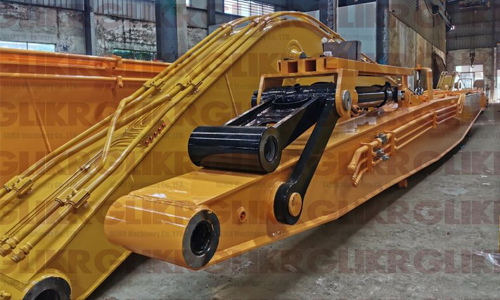 Long Reach Arm and Boom
Whenever you place a longer boom or arm on a machine, there are trade-offs to be made. The biggest one is machine balance, with the center of gravity away from the center of the machine. According to physics, this means that the further you are from the machine, the lower the lifting capacity.
The same principle applies to attachments. The longer the front, the smaller the attachment is usually allowed to be. Stability, on the other hand, becomes a trade-off that the customer must analyze and understand. Then there is the total weight in relation to transportability.
When it comes to carriers, long arms and booms don't necessarily translate into greater forces on the machine itself. Despite the wide range of extension, long and high jibs typically exert similar forces on the excavator body to standard booms and arms. As you extend the range, the size of your storage bucket decreases. You are trading range for capacity. The actual load on the machine remains essentially the same.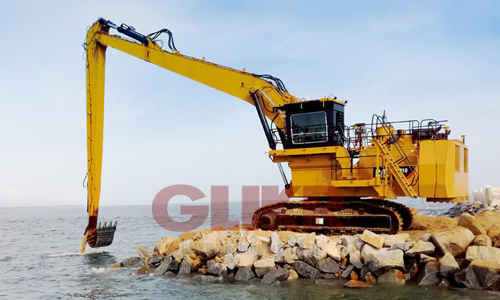 Long Reach Boom Excavator
How to check the long arm of an excavator?
Standard excavators are used for work such as digging trenches, holes, and foundations, as well as some material handling. Their original standard boom and a long boom for special projects where a longer excavator is required.
If you have purchased an excavator long boom from an accessory supplier, do you know how to check the quality? We have listed some tips for checking the quality of the boom for your reference, which will also be useful when you attend exhibitions and I think it can be applied to all steel construction products.
1 Structurally sound, excavator booms are designed under mechanical stress analysis and some areas of the boom that are subject to strong forces need to be reinforced, for example, areas near the hinges, and cylinder mounts. In which thicker steel and angle bracing plates are usually used as reinforcement.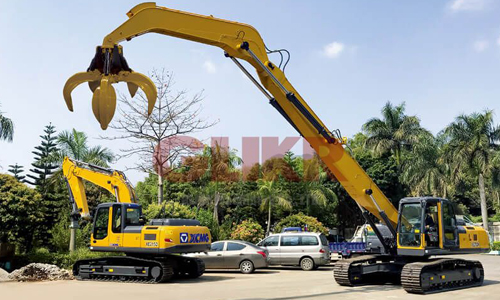 Handling Boom
2. The properties of steel, each material has been selected and proven to be correct for a reason. With the development of IT technology, FAE software (Finite Element Method) can simulate the stresses in the material under specific forces. This has also been applied to the design of moving arms. The results show that Q345B steel with a yield strength of 345Mpa can be used as a material for moving arms, only for large machines or more arduous work, where higher steel strength is required.
3. Good welding quality, uniform welding line, 1-2cm high.
4. Painting, good painting is the guarantee of long life, prevent the product from rusting in special environment such as seawater, the boom scratches also need to be repainted.